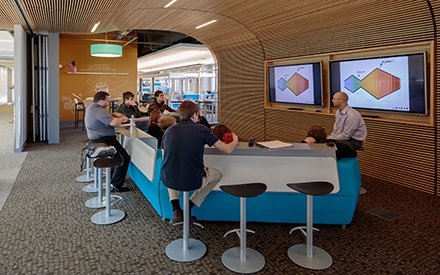 Student Voice: Ahrash
April 25th, 2016, written by Nathan Robertson
---
I met Ahrash in a Kansas City suburb. I was working with 100 or so students doing workshops at his school, Blue Valley CAPS. At the end of the day, one of the administrators pulled me aside.
"Hey Nathan, can you talk with one of our students? I think you may have some good advice for him."
"Sure. What's his name? Anything I should know about him?"
"His name is Ahrash – he owns his own business. He's trying to increase sponsorship for gaming tournaments he runs, thought you may have some good thoughts for him."
There is something you don't hear everyday – an 18-year-old seeking advice on business sponsorships.
Ahrash is as intense and passionate as you might imagine. Not only is he running a business, but at the time he was working on a research paper about why testing is not an effective way to prepare students for the real world. He's a teenage business owner writing about how the education system hadn't served him correctly.
After 20 minutes with him, I knew I had to get Ahrash on our website.
I'll get out of the way to let Ahrash do the rest of the talking. Below is a short interview of him talking about his journey, his thoughts on testing, and why he thinks more schools should look like Blue Valley CAPS. If that is not enough to inspire you, scroll down to read his research paper.
Our youth are powerful. They have passions. They have a voice. Is your school empowering students to speak in this way?
The Effects of Academic and Standardized Testing on a Student
By Ahrash Karbasi
In today's society students are being bombarded every day with test after test, resulting in grades going down, and in some cases, depression. There are many students sitting through an 8-hour school day learning things that they don't want to because the school cannot offer a class to teach them what they want to learn, leading them to not try for tests and assessments. Because high-stakes academic and standardized tests fail to measure a student's future academic potential or creativity and cause undue stress for students of all ages, academic and standardized testing should be eliminated as much as possible.
High stakes tests can be different for every student. For a student who is doing poorly in the class, it could mean that every test counts towards them graduating and passing the class. For someone that takes tests easily without the need to study, Finals, the ACT, SAT, or other college entrance exams are probably the high stakes tests. People may wonder who makes these tests; why are they so hard, and why do they decide your future. Alfie Kohn explains in his book The Schools Our Children Deserve, that there are these so called "educational authorities" that have been given the right to create a test that decides ones future. However, those people did little to take into account the different: learning styles of students, skill levels, or even where they went to school. Kohn also explains in his book that students that are in a lower income based town are inherently going to be worse test takers and in turn more trouble makers. It is almost impossible for the "educational authorities" to take these multiple factors into consideration even though they should, after all, it is a test that decides the rest of your life. If the school system continues like this, with these standardized tests and college entrance exams, we will end up living in a society much like the society in The Giver. People will start taking tests and it will decide where they will be "placed", like they have no choice at all, almost exactly The Giver portrays when they have young teens placed into their "correct job", apparently fit for them.
There are multiple alternatives to the methods that we have now. Howard Gardner explains in his novel The Alternative to Standardized Testing that schools and testing methods should change to how most pre-industrial societies were like. They slowly integrated children and young teens (depending on skill level) to a hands on learning environment and gave them a learning figure based on not only what they were good at, but what they wanted to do as well. Gardner isn't the only one talking about this. Khon and Gardner both talk about apprenticeship learning in their novels. Apprenticeship learning is a fancy term for saying hands on learning. It's the more modern version of the pre-industrial integration/learning process for teens. Very few schools around the world give students an opportunity to do things like this. For example, Blue Valley CAPS (Center for Advanced Professional Studies) does this almost perfectly. With the combination of connections, guidance, and tools, the students are able to not only have a more relaxed and comfortable environment to work in, but they also go off campus for research, meetings, learning sessions with mentors/sponsors. That combination gives an edge up in the real world for students that have the opportunity to do such things. They have basically been introduced to the work force, giving them insight on what they would like to do after high school or college. However, the only way they are going to get to any of those jobs is by passing all of those exams.
Some may think that testing isn't bad at all. And personally I agree with that, most people do. Testing is a great way to set aside the prepared versus the unprepared. However that's only in ideal conditions. There are multiple factors to take into consideration when looking at students test scores, from if they studied to just having a bad day or week during the testing period. I interviewed Nathan Robertson via email after listening to his presentation over Indigo at CAPS. Indigo's main goal is "empowering students with non-academic assessment and analytics". Meaning that they go around providing schools with a different method of testing. One that shows a student's weaknesses and strengths. Robertson is working with his team to bring this to a national or even an international level, shifting the current regime of testing to a more modern version of placement testing. Even Robertson says, "Testing in itself is not inherently bad. It's important to discover an objective metric by which to measure achievement. Where I think our education system is currently struggling is that tests such as the ACT or SAT do not account for the things that make us human. How do you account for creativity? How do you measure presenting skills on paper?" Just like Robertson said, there is no way the SAT or ACT can measure a students passion for a project, creativity, and certain skill sets. The only thing those tests can do is tell if a student is good at memorizing equations, viewing and analyzing charts, as well as working through a math problem. He goes on to explain how standardized tests have no way of proving one's career success, or how they will act and live in the real world.
Laura-Lee Kearns explains in her section within the "Canadian Journal of Education" that an improvement in test scores doesn't always mean an improvement in learning. Just like Robertson said in my interview with him "… a school can prove they are 'good' if their ACT scores rise, or 'exceptional' if a certain percentage of students get over a 30." Meaning that it's just a false sensation of someone getting better. Sure they might get better at memorizing it, but did the student really learn that, and are they even going to remember it past high school, or college?
Students aren't the only ones effected by this push for more testing. Stress is brought upon teachers as well. A student and teacher can only teach do so much when being lectured and pushed by his/her parents, administrators, peers, or even the media. That is exactly why "…standardized testing brought about a real sense that there was a lack of care and concern for their well-being and that of their peers." (Kearns 118) School used to be people's safe place, their go to when they had stress and just needed to focus on something they were passionate about. Teachers used to be the ones students went to for help, not only with school but life choices as well. Now all of that is just clouded up by the stress that the administrators push onto their teachers and students. "Some students not only expressed 'shock' and a lack of understanding at the test results, but some felt 'shame,' 'degraded,' "humiliated,' 'stressed,' 'a little less smart,' 'like a loser,' and expressed 'fear,' upon learning that they had failed." (Kearns 119) Those things that students think about themselves cause so much stress, sometimes so much that they cant handle it anymore, leading to increased dropout rates, depression, or even in worst cases, suicide, all things Kearns says in her study. The educational system is beginning to become corrupted and turning into the opposite of what it was meant to be.
Even many intelligent and very smart people have to deal with things like this all the time. I personally struggle with theses high stakes tests every day. My high school administrators will look at my ACT score and my GPA and deem me an "at risk" student (qtd. in Kearns 115) Meaning that I might not even pass or graduate, and that I certainly don't have the potential in college or past that. However, they don't look at the long lasting business that I have been working on for 2 years, one that has gotten me scholarship offers to schools that know my grades and ACT scores, and even gotten me money after the point where I started braking even. The school again, doesn't take necessary things into consideration when they should. Nathan Robertson talked about how he too was affected by this for 19 years, trying to figure out why the educational system was like this and what he wanted to do with his future. He said, "I was a kid that didn't fit the high school system. I had 30 on the ACT but only a 3.0 GPA. I was bored, restless and unable to see the value in my education." And that's exactly what brings students down, some that are even too accelerated for their classes become affected like Nathan was. That's exactly why he started working at Indigo. He wanted "to help students make those type of discoveries about themselves when they are younger. The sooner you figure out what makes you tick and how you can be confident in that, the sooner you can go out into the world and do big things." Assessments that Robertson and his team at Indigo create should be the new method of testing in today's modern society.
Overall, testing isn't a bad thing. And many anti-testing representatives agree with that. There is just a limit. There should be testing in the form of quizzes, unit tests, and maybe even finals. But to go as far as having a test such as the SAT or ACT decide the rest of your life for you, well that's a line that shouldn't have been crossed in the first place. After all, we don't want to end up living in a society like The Giver.
Works Cited
Gardner, Howard. Evaluation in Education and Human Services. Vol. 30. Boston;
Dordrecht: S.n., 2000. Print.
Herman, Joan. The Effects of Testing on Teaching and Learning. Washington, D.C.:
Distributed by ERIC Clearinghouse, 1990. Print.
Kearns, Laura Lee. High-stakes Standardized Testing and Marginalized Youth: An
Examination of the Impact on Those Who Fail. Http://files.eric.ed.gov/. St.
Francis Xavier University, 2011. Web. 4 Feb. 2016.
Kohn, Alfie. The Schools Our Children Deserve: Moving beyond Traditional Classrooms
and "tougher Standards" Boston: Houghton Mifflin, 1999. Print.
Reddell, Samantha. High Stakes Testing: Our Children at Risk. Print.
Robertson, Nathan. "Re: CAPS Presentation" Message to the author. 2 Feb. 2016. E-mail.